Custom Medals
Custom Medals are a great way to increase your brand awareness while simultaneously awarding your team, employees, clients and business partners alike. Here at FCB we are proud to offer the largest available selection of custom medals anywhere! We will work with you to develop your medal throughout the whole process from its beginning stages to final product.
By customizing individual touches in layout, shape, size and finish, your Custom Medal is sure to be unique. You can even use your own logo or artwork. These individualized pendants are perfect for sports, employee recognition, service awards, scholastic achievements and more.
Custom Medals can be made from hard enamel; imitation hard enamel; die struck soft enamel; photo etched soft enamel; die struck copper or brass without coloring; iron soft enamel. Printed medals are a good option for light weight features. Medals can also be made from pewter or zinc alloy for full cubic motifs or designs that require inner hole cutouts. Electroplating options are available for bright gold/ silver/ nickel & copper, or antique gold/ silver & bronze.
Minimum Quantity - Due to the high moulding and design costs, orders need to be a minimum of 100 units.
For smaller quantities, please see our range of custom insert medals within each Sporting/Achievement categories.
Examples of medals below.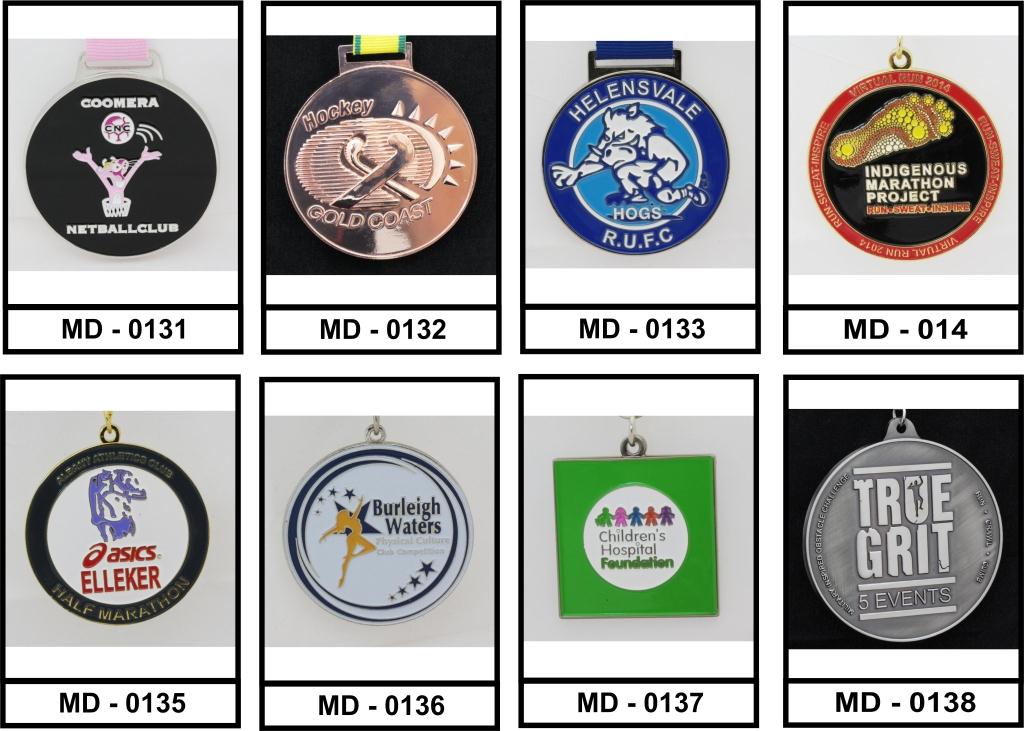 Colour process is usually applied after plating, filled by hand or printed by machine. The colour is made according to the Pantone Matching System, so we can do any colour you want. We have several different kinds of colour process, each option will have different design effects. Below is the detailed introduction of each one.
Soft enamel - The enamel is a water based diluted paint which is filled after plating. After baking the water evaporates thereby leaving the paint which gives a recessed finish. Colours need to be separated by a raised metal ridge therefore two colours can not be filled at the same time.
Imitation hard enamel - Imitation hard enamel is similar to soft enamel however it does not become recessed after baking. The enamel is epoxy based giving the medal a smooth appearance. Colours are again separated by a raised metal finished ridge.
Tinted enamel - Tinted enamel is similar to imitation hard enamel the only difference is that the finished product is not polished.
Silk screen printing - Silk screen printing is a print on flat metal, printed one colour at a time. Each colour needs a screen which can usually be kept for three months. An epoxy dome coating is used to protect the printing. Compared to enamel fine lines and pictures can be created with clarity using this method.
Offset printing - Offset printing is printed by machine in mass onto a metal board and then cut into individual pieces. It will also require epoxy coating for protection.

Ribbon Colours: Popular sizes for ribbons are 25mm (1") or 38mm (1.5") wide by 760mm (30") long.
See below a few colour examples available. Simply send us your colour requirement and we will quote you respectively. Custom printed ribbons are also available.

Please send an email to sales@namebadgesaustralia.com with your requirements and we will attend to your needs.